All Equipments and facilities of Razin Polymer production line have been designed and supplied from newest polymer production technologies from North America, Europe and East Asia.
Final quality of Razin (PVB films) and laminated glass which produced by Razin PVB films test and Control separately in our laboratory.
Razin Polymer is committed to be Customer-Oriented, timely reply all consultations and provide Customers with the most professional service.
All products are tested before leaving the factory, so product quality conforms to International safety Glass standards (Including ANSIZ97.1 and ECE R-43 standards); All finished Glass shall pass Mechanical, optical and weather-proof tests.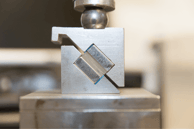 Main performance test items done by the company Include baking, boiling in water, resistance to irradiation, shock resistance, penetration resistance and Shot bag and so on.
Razin Polymer, technical support team provides customers with perfect pre-sales consultation and After-Sales service. In case of customer's request, our technicians will visit customer's plant and advise Them to improve production process with Razin PVB films or solve their technical problems.